Haverlands News and Updates !
Haverlands Sully Fire (pending) B 30/4/2016
Sire: Drea Yakima Firshado by Pratt Sully Fire
Dam: Xquisite Edition by Tiptoe Royal Blue
Four Generations of Appaloosa Breeding here and to crown it off, this boy is homozygous for PATN1 the leopard coat pattern (meaning he could only produce the louder Patn1 pattern)
For Sale at weaing to discerning home where he will be appreciated £2500 No offers
Like Father - Like son at almost 2 weeks old
Our Yearling full brother to Sully. This is Spec. Born 2015 and beong retained by us, potentially as a future stallion. Spec goes one step beyond Sully. He is also homozygous for Patn1 but also homozygous for LP which means he will produce colour to any solid mare, whatever the breed. He looks set to make bigger than both parents too and has the sweetest temperament
At the beginning of each month we will update the site with anything we believe newsworthy
14th July 2014 - We are delighted to report that the three mares we have covered for 2015 are all tested in foal so life moves on. I will post who is in foal and due dates on our Expectations page shortly!
We chosen a name for our leopard foal. He is going to be Haverlands Lynx FX (aka Lynx) He's shooting up now, should make 15.3hh with ease and has one of the best temperaments of anything I've ever bred. He's very laid back, puts his own head into his head collar, leads very well and picks up all four feet. Not bad for just turned 4 weeks hey. He will be for sale at weaning
Spring 2014:- Our Annus horribilis.
In early April we lost a mare we'd had for 8 years. Bloxham Tiger Delight (Bronte) havingn carried her Fire baby to full term began in first stage labour. We quickly realised things weren't progressing as they should be and sent for our vet but before she had time to arrive, Bronte prolapsed and we were given the unenviable no choice, option of having to have her put to sleep, losing both her and her unborn foal. We were to discover that the foal had been firmly breach presented and poor Bronte stood no chance of delivering it normally.
Two weeks after grieving for Bronte and her foal, our next mare went into labour at 3.15am in the morning and to our horror was malpresenting, the foal only emerging with nose and one foot. After a taught 10 minutes we managed to present the delivery properly and a tall, very striking loud black leopard filly arrived on scene. Our relief and pleasure was to be short lived when we immediately noticed that baby had a twisted mouth and was having difficulty breathing. The leg that had been trapped back prior to delivery was fixed in a curve and would not straighten, even so she still managed to stand unaided but couldn't suckle. We unfortunately had to have her put to sleep within a few hours of birth.
We sat for the next several weeks deliberating whether to continue breeding and dreading the next foal coming to full term at the end of June. Then one sunny morning on 10th June we got up to find the mare down in the field outside the kitchen window and she was delivering her foal 2 weeks early. We rushed out in time to see her final pushes and the appearance of a spectacular bay leopard colt who was up and suckling with 15 minutes. Perfect picture of health and decidedly gorgeous.
---
June, 2013 -
Well, better late than never I suppose. It's been a while since I updated this page so i thought I best give myself a kick up the khyber and get on with it. First of June saw inca obligeus by delivering a very nicely put together colt just after midnight. We caught her making ready on cctv which gave me chance to get her tail bandage in place just in time for her waters to break. 10 minutes later she had delivered a stroing healthy little boy as though she'd done it many times before. We did have fun and games with him trying to access the milk bar. Every time he touch her udder she squealed and left off all fours but an hour of him wearing her down and she was standing for him to suckle (albeit with the occasional squeak) Now 18 days later she is the best mum in the world and is doing him proud. He has had no fear from the moment he arrived. He headcollars himself just about and skips happily off to the paddock and back each daywith mum. He makes us chuckle in his relucatance to venture off until we are no longer his audience. Much prefrring to stay around the gate showing off his circus skills to us. He's very endearing and a cheeky little chap.
Although we haven't yet settled on a pet name for him we are thinking of registering him as Haverlands Quechua (k ch w -wä) which is the Inca Language. We thought keeping his mothers name theme would be nice.
He will be For sale at weaning at a reasonable price. Sire is Drea Yakima Firshado, a direct import from the USA and his dam is by Private B Riker out of a mare by Amazing Blue. Both parents are pssm negative. He will remain solid without doubt so may well be an attractive proposition as a stallion to put to homozygous fewspot/snowcap mares to produce spotted foals
16th December - Both foals weaned now and all our horses are rugged and stabled. We've had a wet winter so far with so much surface water we thought we would need to issue flippers. Indy went off to her loan home last month (just a mile or two down the road) Jo seems taken with her and she's back in work already. She's a mare that enjoys people and will love being regularly ridden and the attention she'll be getting right now. Tilly and Bronte are having a well earned year off and both are loving the stables with plenty of feed coming their way. Inca is looking quite rotund now. No doubt at all that she is carrying our next Fire baby. Inca is homozygous black so the coat pattern will be interesting. My guess is solid black or big and well spotted but that's the fun of breeding appies, patiently waiting to see what is unwrapped in may 2013. Mr Fireballs is chilling (as per usual) he's chubby to say the least but a viral infection in October has left him with a bit of a peppy cough. We're soaking his hay and he's loving glycerine and honey cough syrup in his feeds and his daily dose of ventolin. While I'm on that subject, I'd just like to thank Jan Weeks of Nancarrow Appaloosas who sent me her equine inhaler for him. Jan you are a star !
16th July - Sees me take over the position of Registrar for the British Appaloosa Society. I didn't quite realise just how time consuming it was but now that I have mastered the database and brushed up on the rule book I'm very much enjoying the challenge. Seeing all the foals coming in to be registered is real bonus and chatting to so many nice people is a delight.I'm loving the job.
16th May - Tilly finally foaled at 8pm at night. I can't believe how both my mares this year have done it in broad daylight. It doesn't help that I've had matchsticks in my eyes for almost 2 weeks. Anyway, it's a colt. He's black based but almost white born with a faint silvery mane and tail and four black triangles just where they should be on his feet to show that he's homozygous. With the amount of black leopard breeding, heavy on both sides of his parents, I suspect he would be an exciting prospect to be homozygous for patn1 and posibly black too....
We've called the filly Mika, aka Haverlands Kandescent.
May saw Bronte's foaling date come and then go.Full term on 5th, she finally popped and delivered us a spectacular multicoloured near leopard filly at 7.30pm on the 10th May. She was nearly born outside in the orchard but we just caught her with the balloon and two feet popping out, in time to get her inside to deliver in comfort. We are delighted as this year has proved to be a colt year for many.
Next to deliver will be Tilly who is waddling about with an udder like a cow and a belly like she's swallowed a beachball. I somehow don't think she will go much longer. It's now 12th may. her due date is 14th
March - 2012 - I'll start by saying that I had the worst December ever and have never wished so hard for a year to pass on New Year's Eve.
My mum took ill unexpectedly, was quickly admitted to hospital and after alomst 3 weeks of keeping vigils by her bedside, she sadly passed away and left me with the worst empty feeling that I have ever experienced. Christmas will never be the same from now on, especially as I lost my dad on 28th December a few years before. My poor dogs and horses basically had to tread water during this time. They were all relieved once normal routine resumed for them.
People without animals don't realise just how much work and dedication goes into looking after of a menagerie properly and even my closest relatives didn't seem to appreciate that I needed to actually spend a few precious minutes of my time with the animals during my mother's illness and not 24/7 with her.
On a slightly brighter note, I had been negotiating to buy another appaloosa mare before all this happened and had booked transport to deliver her for me. Poor girl arrived in darkness at 10pm on the friday night my mum went into hospital. She got popped into a stable and didn't get turnout for 2 weeks. I bet she wondered what the heck was happening but credit to her breeding and fantastic temperament, she dealt with confinement admirably and is now enjoying life here with us. I have posted her details on the 'mares' page and she will be meeting Mr Fireballs this spring for what I believe will be a stunning baby for 2013
December - 2011 - Since my last update I have to tell readers that we lost Zhensuk Chieftain in August. He was enjoying the sun in his 7 acre retirement field when at 2.30pm in the afternoon he collapsed suddenly and died instantly. At first we thought it had been an embolism but a pm identified a massive heart attack. After all the old boy had gone through with his cancer and all the treatment he patiently underwent! It sickened me to think it had all been in vain. I will never forget this big hearted horse. He was one in many million and could never be replaced. I grieved for him for many weeks and still find a tear welling if I think too long about him. He graced me with his presence for 6 wonderful years and I loved him dearly.
16th july -Update - Since I last blogged, Tweed has gone off to her new retirement home with a friend and will be used for light plodding around the village and country lanes. Cali has settled well with Angie and is being pampered to the extreme. I know Angie is posting pictures and updates on here too so we can all see how she develops, hopefully into a good quality comeptition horse. I believe Angie intends Eventing her eventually.
Nobby is completely settled into his retirement now. It was a hard come by decision to make but one I do not regret when I know he is snoozing in the summer shade enjoying his surroundings. At 20, the old guy deserved to have some peace after the traumas of last winter. I am now removing him from the site as I still keep getting stud enquiries for him.
In his place we now have the American Imported stallion Drea Yakima Firshado who came initially to cover my two mares but has ended up in residence until further notice
Both our mares, Bloxham Tiger Delight and Xquisite Edition are safely in foal to him for April 2012. We have not covered Indy. She will be brought back into work at weaning of this years foal and will be covered next year for 2013. I am now set on finding another bigger mare, either garde B or A to put to Fire next spring. I am in no rush, going to take my time and find the right one to breed a high graded foal with some size in 2013
In the meantime, Fire's 2011 fewspot son is coming on leaps and bounds. He got his microchip last week and his paperwork is completed to obtain his passport. I thought long and hard about a name for him and finally came up with Haverlands Wildfire, aka Skip.
He's a beefy chap, muscled up already.Ii should think he will make at minimum 15.1hh. He has a small dished head and the varnish marks around his face and eyes mark him look exceeding pretty for a colt. He's good to handle, picks his feet up and leads like he's been doing it for years. He floats when he moves and I have no worry about saying he would make a terrific stallion and definitely a western prospect. If he were anything BUT fewspot he would be staying here with me but my mares are all fewspot so keeping him permanently is not an option unfortunately. He should have been a filly the he could have stayed here lol.
Skip is for sale. He would be an absolute asset to any breeding program. Homozygous, Grade A 5 generation appaloosa breeding with looks, temperament and sheer quality to go with it all...... His price would be negotiable to a good show/breeding home.
14th June - Two mares covered and now waiting patiently to see if they have held. Cali went to her new home in the New Forest yesterday, loaded like an experienced adult horse and travelled well. She was delivered this morning and promptly met the yard farrier who obliged by running the rasp round her feet. I'm told she stood calmly and very well behaved. What a super star!
Jack is growing by the day and now has sole attention of the ladies
4th June 2011 - Our one and only 2011 foal arrived early on Bank Holiday monday 30th May. He is the sweetest bay based fewspot colt with the prettiest dished head and very long legs. Dad is Drea Yakima Firshado, an American import and mum is Batwell Indian Trail our Grade B fewspot mare, making this little chap a full 5 generation Grade A. He should make 15.1hh plus. We are delighted with him. He's got that spark of cheeky too, runs rings round his mother already, a real show off. He will be for sale at weaning as our mares are all fewspot, making it impossible for us to retain him
15th May - On a brighter note, not long now until our only foal arrives. Indy looks like a beached whale. She's due 4th June but I wouldn't be surprised if she foaled a week or so early. Everything willing, baby will be a Grade A. Because of my stallion's condition last year and being unable to cover anything, we sent her to Drea Yakima Firshado just so we would have the patter of tiny hooves of some kind in 2011. Two years ago Indy produced a fvery nice filly to him which is now with Bloxham Appaloosas and has made a really nicely put together 2 year old. She's over 15.1hh now at 2 so should make slightly bigger than I expected by Fire. I hope this little one will do the same. It's a bit sad really because at this time of year I am usually excited about the new impending arrivals but with all that has gone before I haven't seemed to get myself motivated. maybe when it arrives finally I will think differently!
I have some hard thinking to do to decide whether I continue breeding without a resident stallion. Decisions, decisions!
13th May - Sorry for being quiet on here over the last few weeks but I've had my hands full. Most of the horses are turned out to spring grass now but my poor Nobby had a relapse in March. His eye has been bothering him and he went back on medication to lesson the pain. We now have it under control but I have to be realistic and come to terms with the fact that his breeding days are probably over. Since christmas he seem to have also gone slightly senile, if that is possible in horses, and with his sight problems now his balance is all but shot. I will not put him through attempts to cover just so I can get mares in foal. I love the old lad to bits and am sure now that I wouldn't want to stress him out any more than he already is by trying to get him to make babies when it's quite obvious that he isn't up to it. We have him relatively comfortable now and he seems happy. I am making arrangements to let him turn out in a quiet spot well away from the smell of in season mares, where he can chill and we'll take each day as it comes
29th February - All the horses are feeling spring in the air. My two foal turning yearlings are growing like mad and moulting just as quickly. I've had them both rugged and stabled through winter. Cali is going to be a very special lady. She's big boned and destined to grow big. Cali's red spots have deepened over winter and in the summersunshine, with her winter coat gone she should be stunning. .
Jack is making a really nice thing. He takes my breath away every time I see him. I should think he will make the size of his father but if anything he will be more striking. His white base coat os stark white making his black spots ever more stunning to see. I so hope he keeps his good temperament
28th February 2011 - An update on Nobby.
Nobby came home from Liverpool the week before christmas having coped well with all the chemotherapy. Staff have grown attached to him and they all tell me what a perfect patient ha had been. His eye is absolutely tremendous. I can't believe just how well everything seems to have gone. He's been on pain relief through christmas and into the NewYear but now is on no medication at all and is dealing with it al so very well.
I have posted the pictures that my vet took of his eye prior to Liverpool and then one after the operation when he had come home again. You can see what a mess it was and then what a fantastic job that Professor Knottenbelt and Fernando made of it for him. There is still a little oedema in the corner but it is slowly draining and he has sight back in some form. He doesn't miss a trick now! I'm just hoping that the squamous cell carcinoma doesn't return
?
29th/30th November - Surgery was postponed from monday until tuesday due to the extreme weather conditions which had stranded professor Knottenbelt in Spain. The operation finally took place on tuesday morning and I sat at home like a nervous wreck waiting for news. By lunctime the vets contacted me to say that surgery had been successful and that Nobby was revived from anaesthesia and recovering. The so called corneal ulcer biopsy had now proved to be cancer called Squamous Cell Carcinoma which I'd never heard of at all but on investigating further via the internet it appears to commonly affect appaloosa/spotted and draught breeds due to the pigment situation surrounding the eye. As I write, Nobby is currently under a 5 day course of chemotherapy until 5th and hopefully I will be getting an update from liverpool on monday 6th when I am anxious to find out if and when he may be allowed to come home and what the long term prognosis will be. My beautiful boy is no spring chicken now. he'll turn 20 in march 2011 but we adore him and just want to give him the best possible chance for the time he has left with us (hopefully years)
24th November - Nobby was taken by professional transport to Liverpool where he was examined by Fernando and just about all the Inturns until Professor Derek Knottenbelt arrived to see him. Having studied his clinic history and examined him, the advice was to operate. Nobby was left at the hospital pending surgery the following monday.
16th November - Having tried our hardest to accept our stallion's eye condition, we decided to have a 2nd opinion and requested another independant vet take a look at him for us. We decided that if we got the same diagnosis then we would have to fully accept the decision to leave well alone. The vet arrived today and examined him, took pictures of the eye and advised us to allow him to be referred to Liverpool Veterinary Hospital for biopsy and investigation. I had a gut feeling that this is what would be the result of a 2nd opinion and to be honest the decision made me feel as though I was doing my best for him. The clinical history was emailed with photos and we awaiting the phonecall appointment to come
5th September - I start this update with sincere apologies for the long gap in between news. Life has been hectic to say the least, especially with having the task of hand rearing Ember. We have also been treating Chieftain, our stallion for what started off as a corneal ulcer caused by a scratch to his eyeball. We suspect that he originally did it rubbing his head on his haynet which is one of many of his great routines he has always had. Anyway, after 12 weeks of antibiotics 3 times a day the glazed mass covering his left eye wasn't appearing to improve. Our vet reassured us that the ulcer was completely healed by the antibiotics but as a result scar tissue had begun to form on his actual eyeball so we changed medication to cortasteroids to try to lift the tissue formation. We progressed through 4 weeks of regular applications but again the glazing was refusing to budge. Our vet is now sure that the tissue will never lift and that we have to accept that Chieftain will be blind in that left eye permanently now. He is in absolutely no pain and there is no infection but the scarring is so embedded into his eye that it would be impossible to remove it. After much discussion and reassurance with our vet it has been decided to leave well alone. Our only alternative was to put Chieftain at risk in an operation to remove the eye altogether but as he seems to be coping well with the situation our vet thinks this would be unnecessary.We are hopeful that time is a great healer and that he will adjust to it for the 2011 breeding season. Because of his conditon we have not covered anything with him and only have one mare in foal for 2011, which is Indy, out Grade B who his scanned now in foal to the American Grade A Imported stallion Drea Yakima Firshado for a grade A baby next year. This will be her second baby to him. Her last, Haverlands Fahrenheit was a bay near lepard filly, now at Bloxham Appaloosas.
Our 5 foals of 2010 are all doing very well.
Ember the orphan is growing really well and is fully weaned now. She is the double of her beautiful mother and set to make a really good size
Hope, the currently bay filly out of Image is absolutely huge. I can't wait till she begins the transition from solid to characteristic. It won't be long I'm convinced and she has the so obvious amber hooves, triangles on her feet that scream out to me she will be homozygous. If she weren't by Cheiftain then this would be one hell of a keeper!
The Iceman is fabulous! He's big, he's friendly and his colouring just takes your breath away. I haven't seen one so loudly marked for many a year. His huge black spots are now standing out from the rest of his coat and as autumn approaches the balck are becoming surrounded by stand out white halos. I have to nip myself to remind me that he's one I bred
Calico - I don't have words to describe this filly. She's is massive in statue with a personality as big but is the most gentle, laid back animal in the world. She is spotting out more by the week. I keep finding more chestnut spots every time I look at her closely and she is definietly out of the same mould as her mother Tweed who is the easiest riding horse and very intelligent. I'm so tempted to keep Cali because I know she is going to make one hell of a horse. She will certainly take some parting with
...and last by by no means least is my pride and joy! Jack has stolen my heart. He is sweet natured, very people orientated and a certain keeper for us here. We have huge plans for him so long as he remains sane and sensible. A future star to walk in the footsteps of his father in time. A picture perfect absolutely true nose to toes black leopard with size, quality and high grade breeding. We definitely hit the Jackpot with 'Jackpot'
We had visitors last week, come to see the babies. What an advert for the calmness of the breed!
We are also really grateful to have contact with Jayne Coulson who now ownes Haverlands Vital Spark (Full brother to Ember) Jayne tells me that he is doing really well and proving to have a very calm disposition. He has been successfully shown this season and is 15.1hh now and still growing. Thank you Jayne for making contact
and finally! All the babies had their microchips done, vaccinations and worming last week. Their passports went off the same night and, respect to BApS registrar, they are all now back done with me within 5 days. great turnaround, thanks Sandra.
Probably my next entry will be the thrills of weaning! but that's another story LOL
~~~~~~~
24th May - Well, all my other foals arrived in succession starting with Tweed on 6th May foaling a huge chestnut leopard filly, followed the week after on 12th by Tilly who decided to produce early but then stunned us with the most amazingly marked loud black leopard colt we've bred for ages. The night after, 13th saw me feeling like i'd been there before at 3am when Image foaled a massive and very elegant rich bay filly with all characteristics. Typical of Image foals, she will colour right out quickly and is set to be 16.2hh of pure quality. The old witch is not the prettiest of mares and certainly not the easiest to deal with but goodness she throws fabulous foals without exception!
A long wait then for us until 21st May - When Bronte amazed us even more than we had been by giving birth to another loud leopard colt but this time one with huge knees and hocks and set to be one big horse. He's maybe not as evenly marked as Tilly's son but boy does he turn heads and his spots are bigger and rounder than my first born. I can't wait until I get the two of them out in the field together. Now that's going to be a hell of a sight for sore eyes!
Ember is going from strength to strength now. She's growing and doing really well. She enjoys her nightly exploration of my orchard on the end of a short lunge line. Buffy comes too and Ember chases her and tries to jump on her. She makes me laugh out loud with her antics, rearing up in slow motion on the spot then broncing backwards in play and all the time sqealing like a choirboy on heat. She's full of fun and I love the bones of her. She'll be 9 weeks old on wednesday and all the hard, tyring work is so worth the effort. I don't think she's missing having a mum. She sees all the other horses all the time and has really befriended Buffy. So far, so good!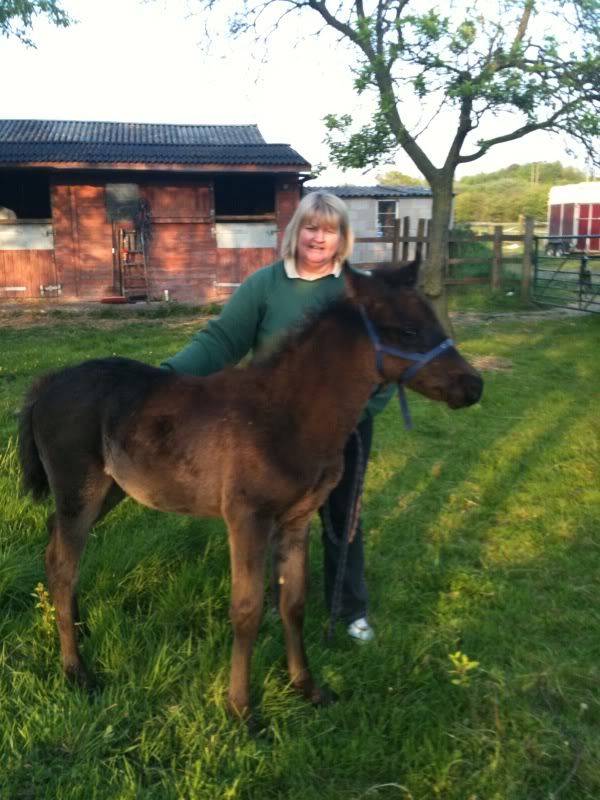 23rd April - Ember is doing remarkable well and eating all we put before her. She's drinking plenty of foal milk and eating creep feed. Her jaw never stops munching the haylage and she's as settled as an orphan foal can be. We put her next to Buffy, one of our bobtails who is keeping her company. They keep touching noses.I know you don't want orphan foals to get too people orientated but this one is likley to bark like a dog by weaning. Johanna Vardon is trying her hardest to find us a surrogate mare but it's hard and so sad to wait for dead mens shoes.
18th April - Really tragic news as we lose our beloved Boogie. One the saturday afternoon we watched her and baby out at grass and commented on how well the old bird was looking. She sunbathed with Ember and rolled about in pure pleasure to be out stratching her legs and showing off her lovely baby. The next morning she collaped and died instantly having suffered a heart attack and haemorrhage. Our vet says she would never have felt a thing but unfortunately she leaves us with Ember, not quite 3 weeks old to rear by hand.
1st April - What a date to foal! - Boogie finally foals a clone of herself. Completely solid black filly with no white anywhere. We've called her Ember and I am sure she has been on this earth previously as she's so people friendly and such a sweet natured baby to handle and deal with. Boogie really did us and herself proud!
18th March - )ne week left until Boogie is full term. She's loking as good as she can now and very very round. Feet to be trimmed this afternoon and a nice bigger bed going down tomorrow. She's a creature of habit and I don't expect her to go much over her due dates. She just gets on with it bless her. CCTV all working and correct, new tubes in the lights so it's just wait and see. This will either be solid and very black or black based with lots of spots. Boogie is an all or nothing girl !
13th February 2010 - Our mares are all extremely rotund now. Tweed may just well burst before prodcing what will be her last foal for us. Once this one arrives she will retire from breeding and enjoy a life of love, attention and happy hacking with my oldest friend Lynne Brown
Boogie looks as well as she could do, even at 23 this year. 4 weeks now and counting until we may hear the patter of tiny hooves from her stable. I'm willing a nicely marked filly but what I do know is it will be black based of some sort, whether solid or spotted, black is a certainty with Boogie ! I feel a little merlyn coming on LOL!!
Bronte and Image are both well and content and my little maiden fewspot, Tilly is like a beach ball with legs. She's still keeping Romeo company (and in his place) Last week they were rearing up and play fighting with each other, not bad to say she should foal around 17th May.
Romeo is as gormless as ever. If he were any more laid back he'd be horizontal. So far so good. I'm not entirely sure what to expect come spring and mares in season but I have everything crossed that he remains just as easy to do as he always has been. He'll be 2 on 2nd May and my goal now is to see him established for a few years in a good breeding home where he will be used and appreciated. I am really reluctant to sell him. His temperament is terrific and he's got the makings of a repeat of his father; but I don't really have use for 2 stallions at once and would never part with his nobship. If I could find a home I'm happy with until anything happens to Nobby then I'd much prefer Romeo to remain in my ownership. We'll see what spring brings!
13th December _ Into a steady routine now all are stabled. Everyone is looking well and round and all the mares are showing well in foal now. Roll on New Year when we get well passed the shortest day and the nights start slowly to draw out again.. then spring is on the horizon and there will be good and exciting things to look forward to. I'm getting quite excited now about what Tilly may have. This will be her first foal and having had her since she was 4 months means that all my plans will come to fruition hopefully. Time will tell but it's this one foal that keeps my attention for 2010!
28th November - See Flynn completely weaned. Now all three foals have been fully weaned. Weather has taken a turn for the worse so now all are in and stabled. Roll on spring!All 5 mares safely scanned in foal for 2010. Details on the Great Expectations page. I've also taken responsibility forthe daily running of the offical site for the British Appaloosa Society and am trying to sort things out between all three sites now. www.appaloosa.org.uk
2nd August - We had a very nice day out at the British Appaloosa Society National Show in Warwickshire. It was lovely to see Rowan (Haverlands Scenario) and Brodie (Haverlands Rainmaker) competing well on the day. They are both a credit to their owners Debbie Bell and Jess McInnes. Jess recently had a nasty fall from another of her horses and broke her back. She has only been out of hospital for a few weeks but still managed the long journey down with Rowan. He was shown well by her dedicated father. Well done Colin for stepping in to show him. To say it was Colin's first attempt at showing ever! they did rather well in the circumstances!Get well soon Jess, Rowan needs his mum!
27th June - Image and Bronte have both gone beyond their seasons now. I'm fairly confident they have both held in foal but shall be having them scanned shortly to confirm this. Tilly was due back into season today but so far, so good and she's showing no signs. Hopefully I can get all three scanned next week on my days off. Flynn and mum have joined Indy and Fahren out in the big field and both foals are now enjoying each others company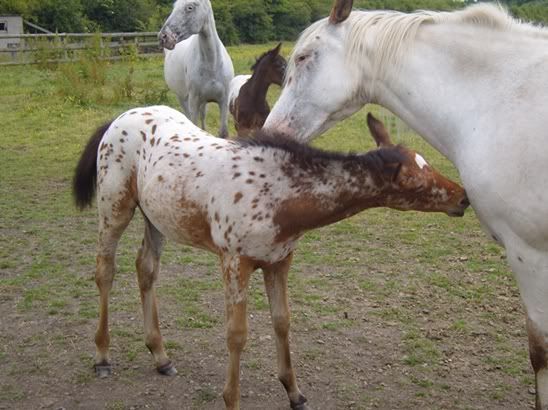 25th June - Have had Romeo turned out with the mares for some weeks now and they seem to be keeping him in his place. He's a really relaxed guy and happy to be with Tilly at the moment. I took some new pictures of him today and he's bodying up nicely. He's now 13 months old and standing topside of 14.3hh, infact I would say he's slightly taller than Tilly now and very 'bum high'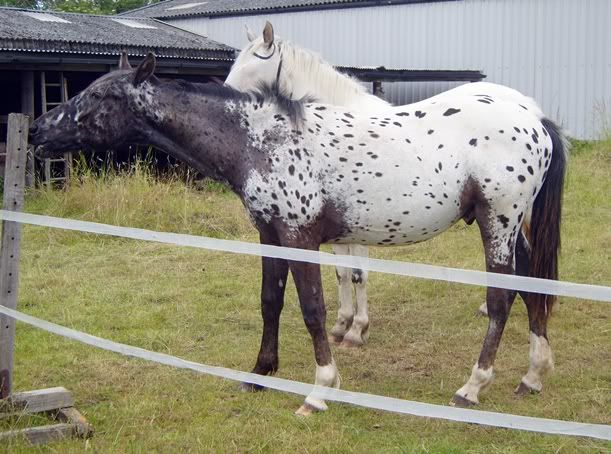 15th June 2009 - Boogie and Tweed both scanned in foal.
June sees Bronte covered in her foaling heat and Image covered on her second season. My attentions were then turned to Tilly who is now 4 and having point blank refused last year to have anything to do with my stallion, we decided we must give her another go. After pg' ing her, acp' ing her and a good old twitch we finally got her covered for the first time, follwed by 2 more natural coverings with her completely compliant. Now this foal I can't wait to see next year as I bought Tilly after much research into her breeding and it will prove to me if I was right.
Covering season snuck up on me and we've been madly covering. I was intending to be a bit cautious but that seems to have gone by the wayside. Not knowing the economic climate and how the land lies I thought about reducing my in foal mares but having had Tweed come home to be covered and Boogie covered early after having a year off I then decided to cover Image because this colt is exceptional and remembered I must try Tilly again after the performance with her last year when she completely refused to stand.
Had an oult of the blue call from Jen Speight with Taz who is now 4. She's just starting to do some competion work and rang me with updates. I'm waiting for pictures as she says he's full up 16.2hh now, still bum high and all horse. He's full brother to Image's foal this year which hopeully gives people insight into what he will turn out like. Can't wait for grown up pictures of him
23rd May, having practically sat up all night sees Bronte foal in 15 minutes flat at 0835hrs this morning. It's an absolutely huge dark bay snowcap Grade B colt who jumped to his feet at 5 minutes old and then thought I was his mum. As if, me dressed in fluffy pink dressing gown (very fetching)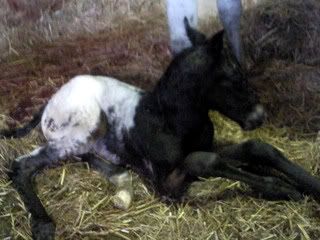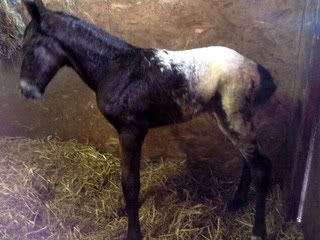 16th May -Still no foal from Bronte yet. This has to be a colt lingering LOL
14th May - Tweed home and covered by Nobby
13th May - Still patiently waiting for Bronte to produce. She looks just about ready but in no rush!
2nd May - After a long wait for Image to decide to foal, the wait was over when she foaled yesterday morning at 0830hrs. He's a typical Nobby child, laid back, lots of bone and very tall. He's about the size of Indy's foal now. It's proving a very spotty year so far!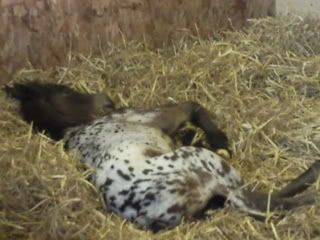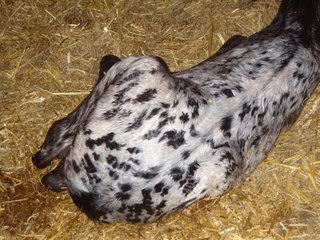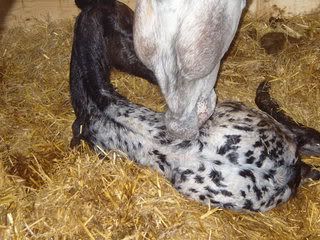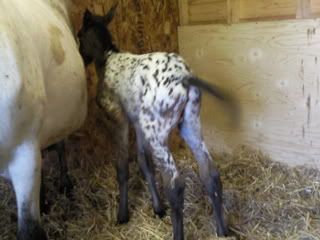 14th April - Indy foals a delightful near leopard filly by the Grade A imported Stallion, Drea Yakima Firshado. Mum and baby doing well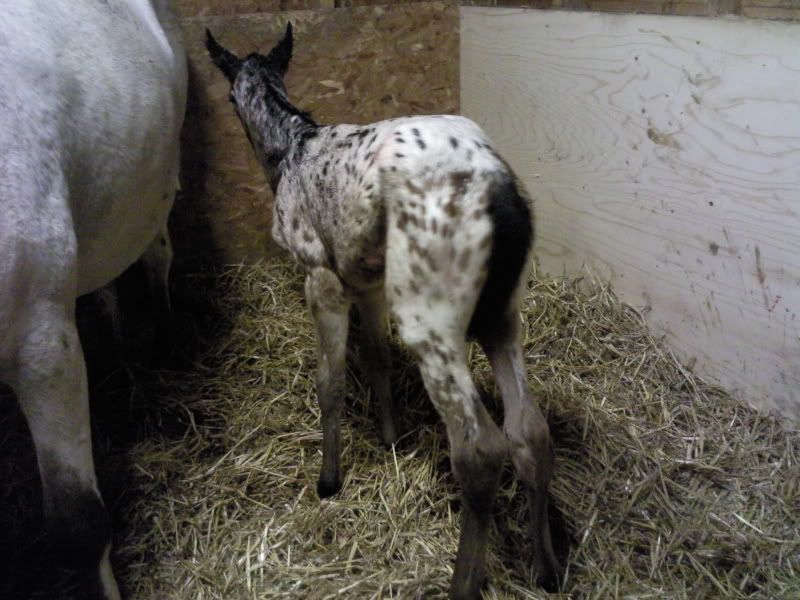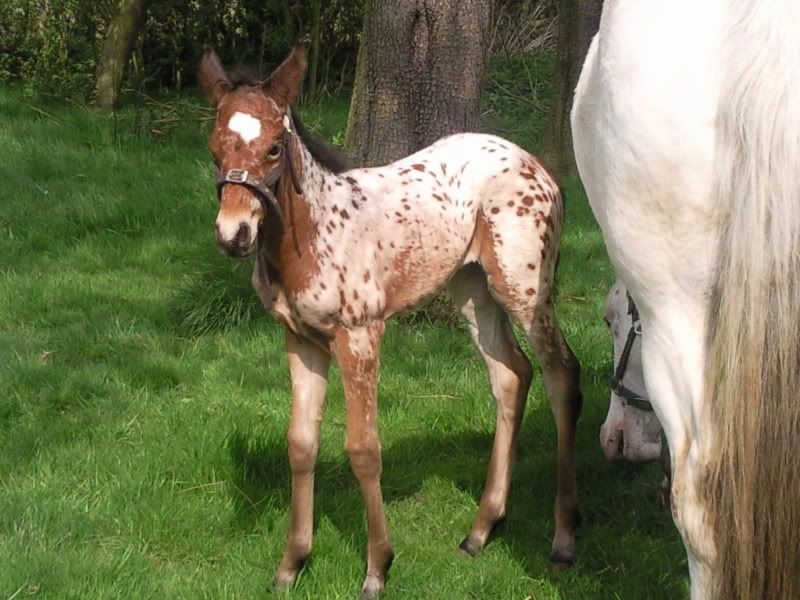 28th March 2009 - Our foal watch calender is about to go up. 3 weeks and a bit to the first arrival (hopefully) The weather finally looks set to have turned and at last we are mud free and have hard ground again. Romeo is growing by the day. I think he's had his hooves in a bucket of miracle grow. Karys is coming on well with my friend Hilary and has just been backed and we were delighted to see new pictures of Harvey showing how much he's grown and bloomed. Can't wait to see him out at shows this season.
Mother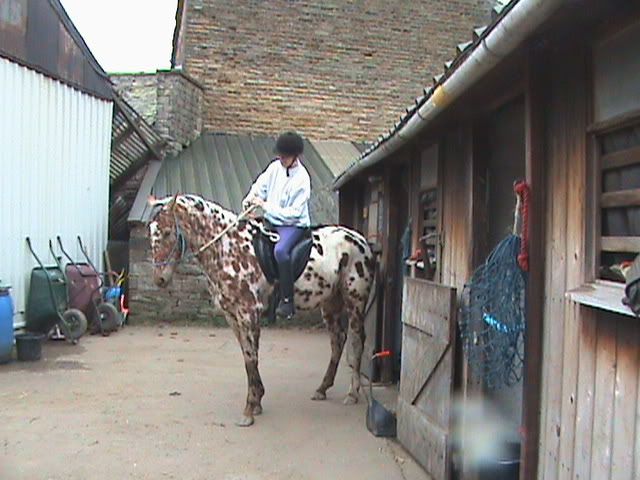 and son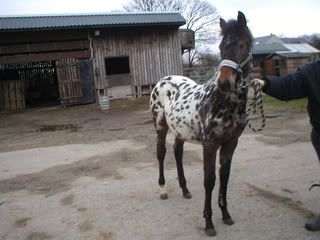 March 2009 - We were chuffed to bits to see Braid take the foal class in the BApS photoshow and I sneaked one of her in and got placed in the action shot
4th January - Website updated and christmas theme removed. All horses are comfortably stabled and doing well. Romeo is growing tall and remains well behaved. We look forward to spring and the imminent arrival of new life. Harvey has now been weaned and is to be kept entire (hopefully)
21st December - A quiet time. All foals now weaned and the mares and Nobby are all stabled for the remainder of winter (with turnout of course) We are looking forward to spring and the arrival of new life and are most excited about what we get from the mating with Indy and Fire. Romeo has grown and has had his first rug experience this week. He looks really dapper in his 'porn star' purple stable rug. Santa definitely won't pass him by as it's almost illuminous! Santa brought Boogie a new rainbow stable rug too and she's snuggly in rug heaven at the moment too.
6th October - Romeo's turn now for weaning. I brought him in this afternoon and he's screamed the place down. Left him digging down to autralia!
3rd October- Braid is fully weaned. She's been so easy to do. She now happily stands with the top door open watching the world go by. She's leading fine and eating like a little porky pig. Don't think I've had one this chilled out for a while!
26th September - Final scan day and now all four mares confirmed well in foal. I've got 2 due in early to mid april and one due at the end of that month or certainly a few days into may!
25th Septmeber - Braid is coming on great guns now. She's done nothing more than call. The day after parting her from Bronte I managed to get the water bucket and haynet back into to her stable and she's eating like an adult horse. We're into a 5 day course of panacur guard and have started her vaccinations. She's being such a good girl. Maybe the calm before the storm, or just that she is a good girl after all! Hope the others take note for their turns!
20th September - After a nice and calm time lapse it,s now weaning time proper. Braid was 5 months exactly on 19th and has just been brought in for weaning to begin. I always aim to wean at dusk so that darkness helps to calm the situation. So far so good!
26th August - Sees all the mares and foals out at grass and very content. kary's foal is coming on leaps and bounds and becoming very cheeky!
22nd July - Karys foaled during the late evening tonight. She's cloned herself and produced a 'mini me' colt. Very pretty little boy, very leggy and should be tall
13th July - Sees Bronte well passed the time should should have come back into season. It just remains for us to book all the scans to confirm now. Watch this space.
Bloxham Karysma has arrived with us heavily in foal. She's due to give birth at the end of July so night watch is to begin again very soon.
11th June - Bronte now finally in season following her foaling heat and has been covered with Nobby, so fingers crossed
8th June - Image not yet back season. Looking good so far
5th June - Indy scanned in foal to Drea Yakima Firshado and Boogie not returned in after being covered by Nobby
19th May.. Image covered by Nobby
15th May.. Boogie covered in her foaling heat and Indy taken to Driffield and covered by the grade A imported stallion Drea Yakima Firshado (aka Fire)
8th May .. Boogie, not wanting to be outdone has cloned herself and given birth to a solid black colt
7th May ... Sees Tweed foal a long awaited black near leopard colt. Born on my OH's 60th Birthday so quite a mile stone !
2nd May .... Bloxham Tiger Delight foals a superb extended blanket filly. Foaling was straight forward and easy and the filly is set to be fantastic. We are delighted